DIFFERENTIATE YOUR BUSINESSES FROM OTHERS
A solar energy system shows your customers that your business is committed to environmental stewardship.

Empowered Energy Systems LLC

design and installation team has the expertise to design and install commercial solar systems that will lock-in a low energy rate for your business.
Commerical solar is a sound investment
Commercial solar offers a low-risk investment that will provide an attractive ROI and increase your property's value.
Now is the time to go solar to take advantage of the 30% Federal Tax Credit 30% Federal Investment
With a solar system you are no longer vulnerable to increasing energy costs as your system locks in a fixed low rate, improving your bottom line. FINANCIAL INCENTIVES FOR COMMERCIAL RENEWABLE ENERGY SYSTEMS
Credit reduces tax liability. They are not reductions to taxable income. If tax liability in the installation year is less than the credit, the difference should be carried forward to succeeding years' tax liability. Tax credits are also available for solar thermal and geothermal heat pump systems for businesses.
ADDITIONAL FEDERAL FINANCIAL INCENTIVES
Depreciation
PV and solar thermal systems are 5-year properties for the purpose of depreciation. Further, the depreciation basis for solar PV is only reduced by half of the federal tax credit. A business that installs a solar electric or solar thermal system (or both) gets a tax credit of 30% and can also depreciate 87% of the cost of the system(s).
REAP
USDA REAP is a grant and loan guarantee program for renewable energy systems, energy efficiency improvements, and feasibility studies. Rural small businesses and agricultural producers are eligible to apply. Nonprofits are NOT eligible. The program is paperwork-heavy and the funds are awarded competitively. Click here for an overview of this Federal program.
STATE FINANCIAL INCENTIVES
Sales and Use Tax
PV systems are exempt from related sales and use tax
Property Tax
Renewable energy systems are exempt from Colorado property taxation. Renewable energy systems increase the value of your business without affecting your property taxes.
EZ Tax Credit
Businesses investing in Enterprise Zones through business personal property can earn a 3% tax credit. Click here for more information.
C-PACE financing option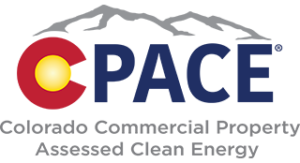 C-PACE enables owners of eligible commercial building to finance up to 100% of energy efficiency, renewable energy and water conservation eligible improvements. Financing is provided by private capital providers at competitive rates with repayment terms up to 25 years. More information about the C-PACE program can be found here:
Empowered Energy Systems

12125 Burritt Rd
Hotchkiss, CO 81419
970.234.5412
info@empoweredenergysystems.com