DO YOU LOVE TELLING PEOPLE HOW YOUR METER RUNS BACKWARDS SINCE YOU'VE INSTALLED A SOLAR SYSTEM?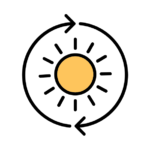 Now how often do you get paid just for spreading the good news?
Do you want to share the news about the great rate of return on your investment? Let your friends and neighbors know the benefits of solar and get $100! It's simple, make sure they mention your name when they call us, and if they sign a contract for a 2kW system or more you'll get a $100.00 VISA card.